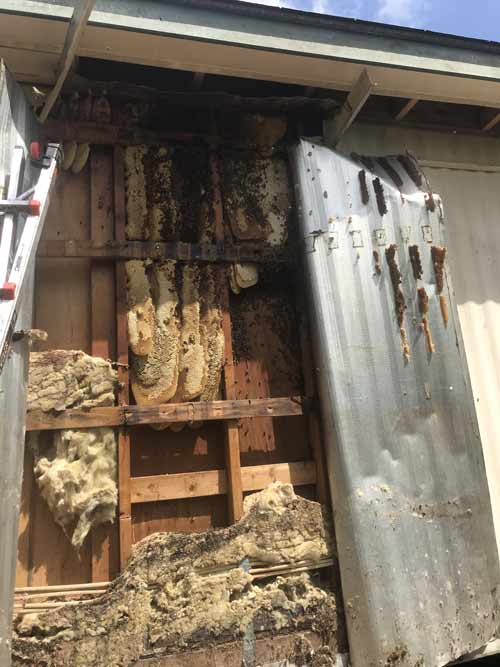 Enormous Beehive Removal from A Trailer Near Houston, TX
Customer Location:
Hand Road, Richmond, TX 77469 on 08-21-2020
Trailers have many purposes and uses, one of them can be for storing honey. Bee Removal Specialist dispatched our bee removal experts to rescue this monster hive from the trailer.
This massive hive has been building for a long time inside the trailer.
Oftentimes trailers are vacation homes that are not visited often by their owners. This hive is an excellent example of neglected beehive. Our bee removal professionals estimate the age of this hive to be over 12 months old due to the size of the hive. Several thousand bees were rescued in the process.
No matter the size, our team of professional bee removers can handle the situation in a fast and detailed matter. Using a bee vacuum, all the bees are safely transported into a bee box. The combs are carefully taken with a hive tool, to go with bees. Finally, the area is cleaned of any pheromones that would attract other bees to the trailer.
1. Do you have experience removing bees from a wall?
Removing honeybees from a wall requires carpentry experience. A novice beekeeper can cause more damage than good if they are not experts in carpentry.
2. What is the process of removing bees from a wall?
An experienced beekeeper will identify the location of the bees with an infrared camera, use a smoker to calm the bees, use a bee vacuum and other professional tools to remove the honeybees safely, extract the hive, clean the affected area, apply pesticide to deter honeybees from returning to the empty hive, fill the open area with insulation and replace the wall with the original material whenever possible.
3. Do you have pictures of honeybee removals from walls?
Trustworthy honeybee removal companies will have plenty of pictures. Choose a company that has more than just a few examples.
4.How long have you been a beekeeper?
Because there are many species of bees, a beekeeper must have extensive knowledge of the different techniques to safely and effectively remove the bees.
5. How long have you been in business?
Make sure they have a valid business license and have many years of experience in the bee removal field.
6. Do you have references?
A reputable bee removal company will have good ratings online on platforms such as Google. Be wary of businesses that have too few good reviews. It's not unusual for novice companies to ask friends and family to create favorable reviews.
7. Do you guarantee your work?
Read the warranty or guarantee agreement carefully. A good bee removal company will warranty a removal requiring a repair for at least a year.
8. Do you have insurance?
Some companies operate with little or no insurance. Companies should have both liability and workman's compensation insurance. This is a good precaution against accidents caused by bee smokers causing fires or beekeepers falling from roofs or trees.
Get a local Bee Removal Specialist in Richmond, TX
Nearby cities that we serve:
Katy, TX
Spring, TX
The Woodlands, TX
Sugar Land, TX
Missouri City, TX
Pasadena, TX
Galveston, TX
Conroe, TX
Cypress, TX
Memorial Park, TX
Pearland, TX
Full Bee/Wasp Removal
Service Guaranteed